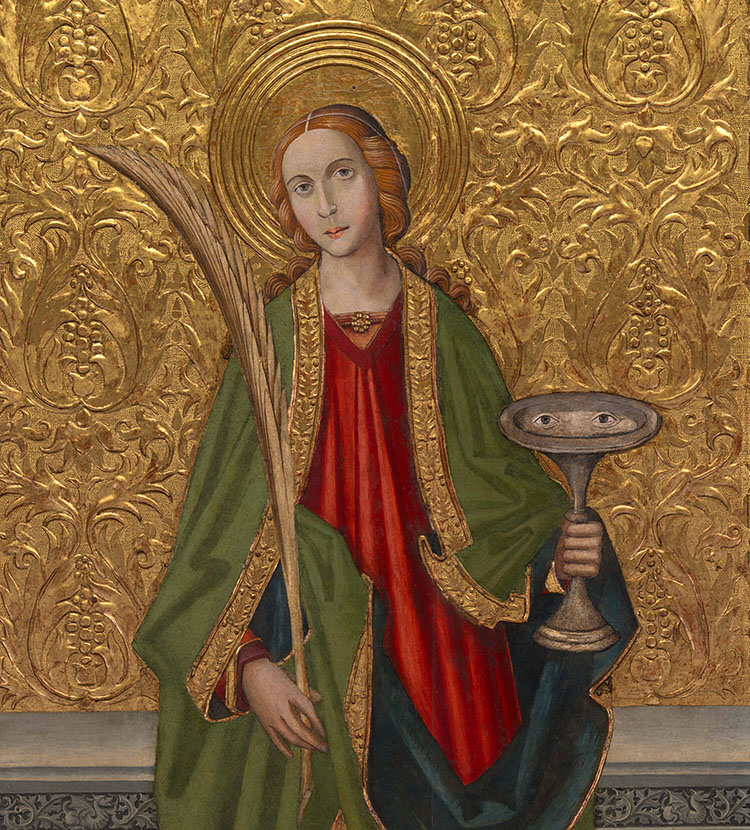 December 13th
St. Lucy (also known as Saint Lucia) was one of the early Christian martyrs, killed because of her religious beliefs around 304 AD, during the reign of the Roman Emperor Diocletian
Born into a wealthy family in Sicily, tradition says that Lucy, after dedicating her life to Christ, refused to marry a pagan man whom she was promised. Instead she devoted her life to Christian service and gave all her money and possessions to the poor. The man who she refused to marry was unhappy and reported her to the authorities. She was brought to court and eventually executed.
In a particularly cruel act before her execution, Lucy's eyes were gouged out. However, the story goes that even without her eyes, she could still see. Commemorating this story through art, paintings of St. Lucia, such as the 1500 painting by Raphael Vergos pictured above, often depict Lucy holding her gouged out eyes on a plate!
Her feast day on December 13th falls during some of the shortest and darkest days of the year. Her feast is a reminder that even in the darkest of times, we can still see with eyes of faith. And, of course, the name Lucy means light. Following St. Lucy means learning to see with eyes of faith in a dark world.
St. Lucia's Day is celebrated as a festival of lights. Sweden, in particular, observes St. Lucia Day as one of their most cherished Advent celebrations. In addition to community parades and processions, families observe the special day by having the eldest daughter portray Lucia. With a crown of lighted candles on her head she serves freshly baked breads, pastries and hot drinks to her family. Lussekatter, a Swedish saffron bun, is a traditional bread used on St. Lucia's Day and one of our recipes for this week. Notice that raisins are placed in the spirals of the saffron buns, representing St. Lucy's infamous eyes!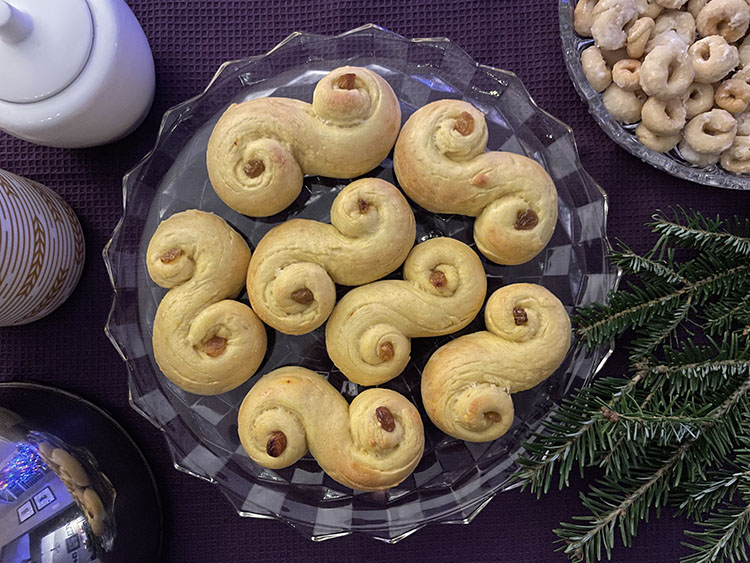 St. Lucy Buns
Ingredients
1 cup (227 grams) milk

1/4 teaspoon saffron threads, lightly crushed

8 tablespoons (113 grams) unsalted butter, room temperature

4 1/2 cups (539 grams) All-Purpose Flour

1 tablespoon instant yeast

1/2 cup (43 grams) dried potato flakes

1 1/2 teaspoons salt

1/3 cup (67 grams) granulated sugar

3 large eggs

1 teaspoon vanilla extract

Golden raisins
Directions
In a small saucepan, heat 1 cup milk and 1/4 saffron threads (crushed) over medium heat until simmering. Once simmering, remove from the heat and stir in the 8 tablespoons butter until melted and mixed. Cover and let the mixture cool in the refrigerator for 20 minutes.
In a large bowl (or the bowl of a stand mixer), whisk together the 1 tablespoon instant yeast, 4 1/2 cups all-purpose flour, 1/2 cup dried potato flakes, 1 1/2 teaspoons salt and 1/3 cup granulated sugar.
Once the milk/saffron/butter mixture has cooled in the refrigerator for 20 minutes, pour the mixture over the dry ingredients.
Separate 1 egg, and set the white aside. (This egg white will be used as a glaze at the end of the recipe.) Add 2 whole eggs, 1 egg yolk (from the separated egg above), and 1 teaspoon vanilla extract. Mix to combine, then knead for about 10 minutes by hand (or 6 – 7 minutes if using a stand mixer.) The dough should be smooth when finished kneading.
Place the dough in a lightly greased bowl, cover, and let it rise for 1 hour.
Gently deflate the dough, and divide it into 12 equal pieces. Shape the pieces into rough logs, cover and let them rest for 10 minutes.
Roll each piece into a 16? to 18? rope.
Shape each rope into a tightly rolled "S" shape.
Add a golden raisin into the center of each of the spirals of the "S". Tuck the raisins in the spiral so they don't fall out when transferring the tray to the oven.
Place the buns on a lightly greased or parchment-lined baking sheet, leaving a little space between each bun. Cover and let rise for about 30 minutes.
Position the racks in your oven to the lower third and upper third position. Preheat the oven to 375°F.
Whisk the egg white (which was set aside in step 4) with 1 tablespoon of cold water. Brush each bun with the glaze.
Bake until golden brown, about 18 to 20 minutes. Halfway through rotate the pans and switch racks to ensure even baking. After 15 minutes the raisins may begin to burn. To prevent burning, small pieces of foil can be placed over the raisins for the final few minutes of baking.
Remove the buns from the oven and place them on a cooling rack.