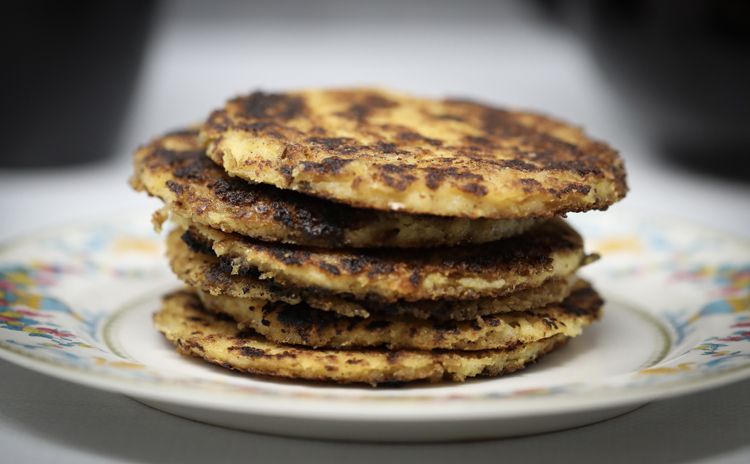 Journey Cakes (aka Johnny Cakes)
Ingredients
1 cup stone-ground cornmeal 

3 teaspoons sugar

1/2 teaspoon salt

2 1/2 cups water

2 tablespoons unsalted butter

butter or oil for frying
Directions
Whisk together the cornmeal, salt, and sugar in a mixing bowl. Meanwhile in a large saucepan, bring the water to a boil. Add the cornmeal mixture into the boiling water, whisking constantly. Turn off the heat and continue whisking until the mixture is smooth. Add the butter and continue whisking until melted and incorporated. Let the batter rest for 15 minutes.
Heat a cast iron over medium-high heat. Melt some butter or oil in the pan. Using a 1/4 cup scoop, drop the batter onto the pan. Let the cakes fry undisturbed for several minutes until the edges are browned.  Avoid flipping them too soon or they will fall apart.
Once the edges are browned, flip the cakes over. Use the spatula to press the journey cake down to a thickness of no more than 1/4 inch. Continue to fry until the cakes are golden brown and crispy.
Let the cakes cool slightly and then enjoy with butter and maple syrup.