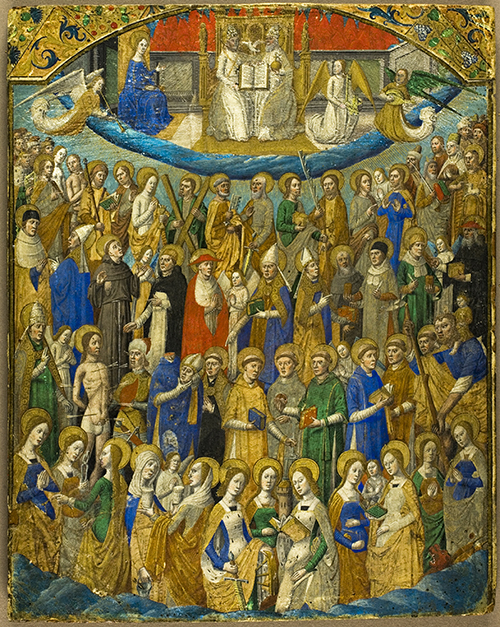 November 1st
All Saints' Day, or Halloween as it is commonly known today, is an ancient celebration going back to the early church. In 609 AD, Pope Boniface IV chose All Saint's Day as the day to rededicate the Pantheon in Rome as a Christian church. No longer a temple for all gods, it was changed to Sancta Maria ad Martyres or the church of Saint Mary and the Martyrs. At that time All Saints' day was May 15th. However, in the Celtic world, All Saints' Day was celebrated on November 1st. This tradition inspired Charlemagne, and eventually led the Pope and the emperor to place All Saints' Day on the 1st of November in 835 AD.
November 1st is an important solar quarter day, marking the halfway point between the Fall equinox and the Winter solstice. Even before 835 AD the first of November was already important all over Western Europe, and beyond, because it marked a change in seasons. The harvest was over and it was time to start preparing for winter.
Some would say that celebrating All Saints' Day on a solar day is a sign of its pagan origins. We believe that minimizes the fact that the church has long viewed the sun and its cycles as a gift from God that brings order to our lives. The solar days should not be viewed as pagan in and of themselves, but days of celebration and significance built into creation itself.
All Saints' Day, marked as major holy day celebrating all the saints, continued to take on special meaning over time. During major feasts of the church, it was common for the poor to go door to door collecting alms. It was believed that those who gave alms received a special blessing, especially when they were generous during the holy season.
The common practice in the English speaking world on All Saints' Day was to distribute "soul cake" (or just "soul") to those, particular children, who go "souling" door to door. Soul cakes were shortbread-like cookie cakes that were sweetened with raisins or currants and flavored with sweet spices like cinnamon, cloves, nutmeg, or ginger. They were each marked with a cross to mark the holy occasion. This is the origin of trick or treating* and the most common culinary tradition of All Saints' Day. Long before the sugary sweets of the Americanized Halloween there were soul cakes on All Saints' Day.
As we make and distribute our soul cakes to friends and family we will be thinking of our saints. There are many saints that are celebrated in the church year, but so many are left out. We have so many friends and family members who help us find our way in the faith and in life. They too are saints and we will never forget how their lives, through the grace of God, made us who we are. It was Bernard of Clairvaux, who taught us that we are able to see as far as we can see, only because we are standing on the shoulders of giants. Don't just let the day slip away as a saccharine celebration, but take a moment to give thanks to God for those that have come before us.
*Caroling and wassailing follow a similar pattern of alms giving and receiving. See entry for Twelfth Night.
About the Art:
With his heavy use of golden hues, Franciscus has created a transcendent depiction of the holy trinity above more than fifty saints and a host of angels. The trinity, seated at the top of the panel, is surrounded by angels playing various instruments. Mary, the mother of Jesus, is also pictured in this panel. The saints below are placed in a deliberate hierarchy with apostles at the top, followed by the patriarchs of the church, martyrs, and then women saints, who are often pictured last in early art. Many of the saints are haloed and some can be identified using symbols that are often associated with them.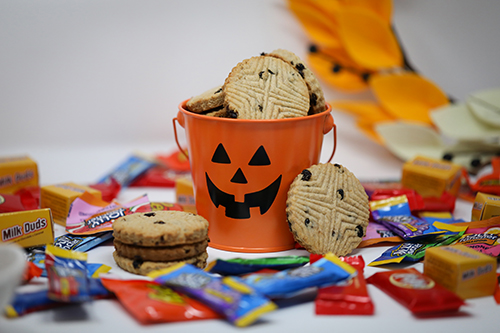 Soul Cakes
Course: Dessert
Cuisine: European
Difficulty: Easy
Soul cakes or "souls" are round, spiced cookies marked with a cross and traditionally given out around Halloween and All Saints' Day. They are delicious paired with a cup of Earl Gray, a bottle of wine, or even a glass of milk.
Ingredients
12 tablespoons unsalted butter, softened

3/4 cup (175g/6oz) granulated sugar

3 egg yolks

3 1/4 cups (450g/1lb) all-purpose flour

2 teaspoons pumpkin pie spice

1/4 cup (60g/2oz) milk

3/4 cup (100g/4oz) currants
Directions
Adjust oven racks to lower-middle and upper-middle positions and preheat the oven to 375 degrees. Line two baking sheets with parchment paper. Whisk together the flour and pumpkin pie spice and set aside.
In the bowl of a stand mixer fitted with paddle attachment cream the butter and sugar together at medium speed until thoroughly incorporated, about 2 - 3 minutes. Scrape down the bowl with a rubber spatula as needed.
Adjust the mixer to low speed and add the egg yolks one at a time. Mix until well combined about 1 - 2 minutes.
With the mixer on low speed slowly add the flour mixture into the butter/sugar/egg yolk mixture. Once all the flour has been added, add the milk and a soft dough will start to form.
Remove the bowl from the stand mixer and continue mixing the dough by hand. Once the dough is well combined and easily forms a ball, add in the currants. Mix the dough by hand until the currants are evenly distributed throughout the dough. Divide the dough into 4 equal balls.
Working with one dough ball at a time, roll the dough out until it is about 1/4" thick. Cut out the soul cakes with a cookie/biscuit cutter and place on the prepared baking sheets. Re-roll the scrap dough and continue making soul cakes until all the dough has been used up. Use a toothpick to mark each soul cake with the shape of a cross. (If using a cookie stamp, stamp the cookies before cutting them out with a cookie cutter.)
Bake the soul cakes for 15 - 20 minutes or until golden brown. Rotate the pans halfway through to ensure even baking.
After baking, transfer soul cakes to wire rack and let cool. Store in an air tight container once cooled.
optional equipment for better results
(1) Cookie Stamp with Cross (2) Scallopped-edge Cookie Cutter